"The Sounds Of The Season" by Liz Perez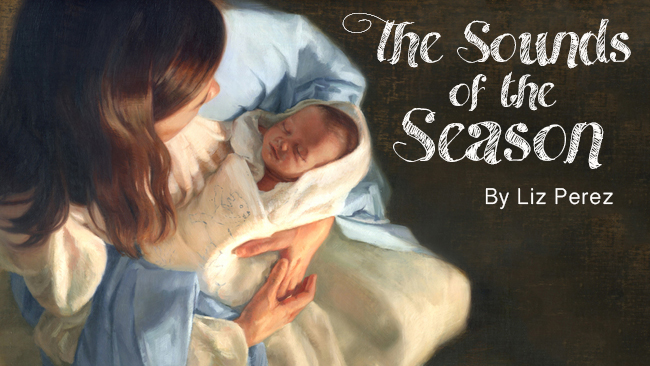 While it might be impossible to know what the very first Christmas song ever written actually was, history tells us that some of the first known Christmas-themed music dates back to the 4th century. However, I think it dates even farther back than that. I think the first Christmas song was sung in the fields as the shepherds encountered the Angel of the Lord, joined by the heavenly hosts as it's mentioned in the second chapter of the book of Luke. It reads, "Suddenly a great company of the heavenly host appeared with the angel, praising God and saying, 'Glory to God in the highest heaven, and on earth peace to those on whom his favor rests.'" What a beautiful song that must have been!
Christmas music has always been one of my favorite traditions during the holiday season. While there is so much to celebrate during the month of December, most of my favorite Christmas songs help reel me back in to remember what Christmas is really all about. Even as a Christ follower, it is easy to get caught up in gift-giving and receiving and the busyness of the season and forget why I celebrate. But those songs that I have known and loved since childhood, songs such as "O Come All Ye Faithful," "O Holy Night," and "Hark The Herald Angels Sing" always seem to help me shift my focus back to the real meaning of Christmas.
As the Director of Worship Arts here at Calvary Chapel Worship Center, it's probably not a big surprise that Christmas music is one of my favorite things about the holidays. And while I have no formal musical training and did not go to school for Worship Arts or even ministry for that matter, music has always been an important part of my life. I believe music is a gift from the Lord and it speaks to people of every age, nation, cultural background, and belief. In my opinion, Christmas music is no exception to this. I wonder how many souls have been saved through the use of Christmas music? How many people who once felt hopeless during the holiday season were led to the joy and goodness of Christ through a moving performance of "O Come O Come Emmanuel" or a stirring rendition of "What Child Is This"? How many people sang along to traditional Christmas songs for years before realizing the bigger meaning behind those lyrics and in turn, gave their lives to Christ? Even if it was one person, the heavenly hosts, much like those cited in the book of Luke, sang and rejoiced!
There have been many Christmas songs that have been written from what might have been Mary's perspective of the birth of Jesus. As a woman, I have often wondered how Mary must have felt during her pregnancy and birth and life of Jesus. There are Christmas songs, such as "Breath of Heaven" and "Mary Did You Know" that have tried to put this time of Mary's life into words, but do those songs even begin to capture her heart? Carrying a child is full of its own set of emotions, but how those emotions were compounded for Mary, who carried the Messiah, I cannot imagine. But for the first time in my life, I can relate to Mary on a more personal level. By the time this Christmas Day arrives, I will have given birth to my first child, a son. And while my son is by no means God Incarnate or the savior of the world, I can at least understand Mary's joy and fear and excitement at a deeper level than I ever could have before. And I have a feeling that from this Christmas forward, Christmas music will take on a different meaning and stir up a different set of memories for me than it ever has before, memories that include the first Christmas with my own child, and the hopes and joys and love that Christ has given me for my son and family.
My hope for you this Christmas season as you hear the powerful message of His birth through Christmas music and the Christmas message is that you find joy in knowing your Creator and understanding your purpose through Him. He did not come to this earth in vain. He came for you. And if the holidays are a hard time for you or you do not have family around to share the joys of the season with, I encourage to come join the Worship Arts family. Whether you want to sing in the choir or the Lord has gifted you with the ability to play an instrument or act or dance, we have a spot for you. We will welcome you much like Jesus welcomes you, to our family. From all of us in the Worship Arts department and family, may you have a blessed and wonderful Christmas!