Holiday Table – Featured Recipes for the 2017 Holiday Season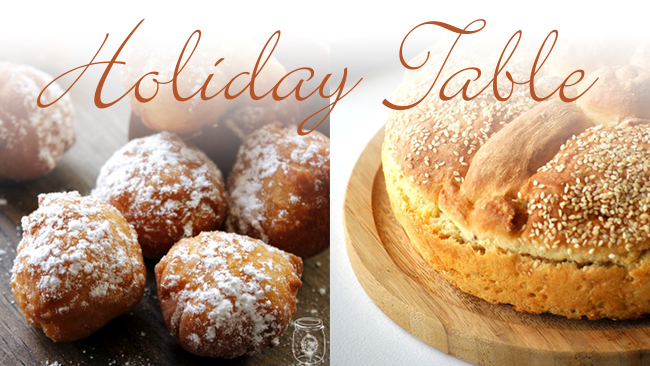 Zeppole
An Italian pastry dough ball
Submitted by Lisa Avery
Ingredients:
2 cups of water
2 packages of dry yeast
2 cups flour
1/2 tsp. Salt
1 tsp. Sugar
Canola Oil
Powdered Sugar
Open 2 packets of yeast into a medium size bowl.
Add 2 cups of warm water but make sure the temperature is warm enough to dissolve the yeast. (Temperature should be somewhere between 115-120 degrees) Stir well & let it sit to allow it to foam up for several minutes.
Now add by mixing well, 2 cups of all purpose unbleached flour, ½ tsp. of salt and 1 tsp. of sugar.
Allow it to sit covered well in a warm dry place. You can use a dishtowel along with a warm plate to help cover it for 60-90 minutes.
Using a large deep pan, add at least 2 ½- 3 inches of oil to your deep pan. Heat at medium/high until oil is hot enough to fry. (you can test heat by putting a dab of batter into the pan to see how well is browns. If it browns too quickly and dark, it is too hot.
When ready, add dough by either making fist balls or just by placing tablespoon scoops of batter into the hot oil and cook by turning over until it is a nice light golden brown.
Once you are ready to take them out, place on them on paper towels to help drain the excess oil.
While still warm, sift desired amount of powdered sugar over the pastry dough balls and enjoy!!
Zeppole is a delicious fried, yet very light airy donut type pastry that originated in Naples, Italy. Just for this reason alone, I knew it was something I had to share being it is the town of my Great Grandparents, all my ancestors, as well as birthplace to our own daughter, Alyssa.
Zeppole is considered to be a traditional Neapolitan treat served during various holidays and also served at many fairs and festival events throughout the southern region of Italy.
While Living in Southern Italy for 2 years, I had the pleasure of learning a few recipes from our dear landlord Elena. She didn't have any daughters so whenever she would see me, she would invite me in to teach me a few of her recipes. I remember making this delicious recipe Zeppole around Christmas time with her and cooking them in her kitchen in a heated oil pan over open flames in the fireplace.
Elena, growing up & living her life in Italy, like most Italians, found it not necessary to measure or use a spoon to mix anything! I will never forget her mixing the ingredients by hand and then her showing me how to make fist dough balls by simply squeezing the dough in your fist and allowing it to come out of your thumb opening while dropping it into the heated oil (picture included). Obviously, she says, "they simply taste better this way".
Our times and memories spent with out landlords will never be forgotten just as the Reason for Christmas will never be forgotten. Christmas always brings such great memories and wonderful family traditions. But the Greatest memory and tradition for us will forever be, our time spent talking as a family and remembering Christ our Savior's Birth while celebrating Him and all His birth means to each of us.
Christ's Bread
Submitted by Thea Michalopoulos
Christmas is a season of traditions for families. Greek tradition is steeped in symbolism of the Christ Child. The family table is a cherished tradition and we joined together in baking all the Greek sweets, treats and pastries. The warm kitchen on a cold December in New York was the most inviting place in the house growing up!
One recipe that is traditional is Christopsomo or Christ's Bread. It is a sweet and spicy bread, similar to Italian Panettone.  It is called Christ's Bread and placed in the center of the table not only to celebrate Jesus' birth but to signify that through the ages He is the center of our homes and families! The children would take some extra dough and roll it into shapes and place their designs on top.
My mother would hide a little treasure in each loaf. A small wrapped coin is slipped into the bottom of the bread before it is baked. After Christmas dinner, the patriarch of the family usually my grandfather, would slice a piece of the warm, sweet, spicy bread for each family member. From the oldest to the youngest we all waited for our slice in turn, hoping to get the one with the coin in it to receive good fortune and blessing all year long! As we say in Greek, "Kala Christougenna: Merry Christmas!"
We hope you enjoy baking this recipe with your family as much as we do!
Christ's Bread
For the starter
1 teaspoon active dry yeast
1 cup warm water
3 cups unbleached all-purpose flour

For the bread dough
8 to 10 cups all-purpose flour
Salt
1 cup sugar
1 cup olive oil
1 cup warm water, or more if necessary
1 1/2 cups coarsely chopped walnuts
1 1/2 cups coarsely chopped raisins
4 Tablespoons Vanilla Extract
Whole, unshelled walnuts for garnish
Olive oil for greasing pans

Instructions
For the starter: In a large bowl, dissolve 1 teaspoon active dry yeast into 1/2 cup warm water and mix to combine. Let stand 10 minutes until creamy.
Add a half cup more of warm water and stir in 3 cups unbleached all-purpose flour. Mix until a dough mass forms, adding a little more flour if necessary.
Cover with plastic wrap and let stand for one to two days; it will rise then fall back on itself.
For the bread dough: Combine the flour, sugar and salt in a large bowl. Add the olive oil and work the mixture with your fingertips until it is mealy and moist. Make a well in the center and pour in warm water,nuts and raisins. Break the starter up into small pieces, adding them to the well. Mix to combine with a wooden spoon, then knead well on a lightly floured surface until the dough is smooth and soft. Cover with a towel and let rise in a warm draft-free until doubled in bulk, about two and a half hours.
Punch the dough back down. Remove a fist-size piece and set aside. Shape the dough into two equal balls, flatten each a little with your hands and place in two oiled, 12-inch round pans. Place five walnuts, forming a cross, in each of the loaves. Take the fistful of dough you've set aside and roll it into thin round strips. Cut and wrap around each of the walnuts to secure. Let the dough rise again, which will take about one hour. Preheat the oven to 400 °F. When the dough is swollen and almost doubled, place in oven and bake for about 45 minutes, or until golden. Remove, cool on a rack, and serve.