CCWC Passion Women's Conference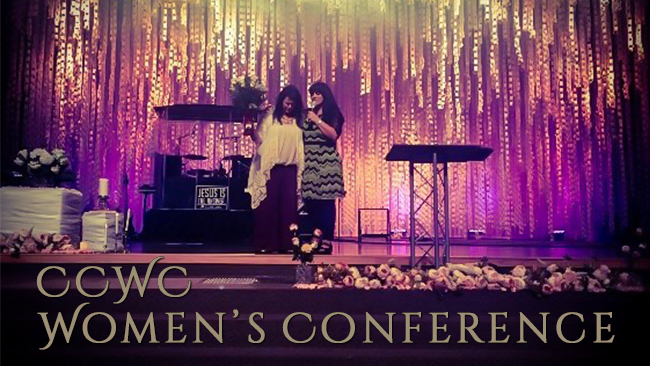 We are excited for our 2017 Passion Women's Conference, "Reign" on September 22-23.
The heart of the Passion Women's Conference was birthed out of a "passion" for Women to fall deeply and passionately in love with Jesus. We want them to see themselves as valuable, set free, delivered, encouraged, inspired, filled up with the Holy Spirit, set ablaze and propelled into the calling that the Lord Jesus Christ has for them.
The moment you walk in the door, you are greeted with a warm loving welcome. You can feel the excitement in the air with anticipation of what God is going to do that weekend. Fresh flowers, sweet desserts, coffee, and tea is the aroma when you walk in the door and each woman is given a gift as a reminder of all that God will do in them that weekend.
We will kick off the evening with Powerful Praise & Worship and move into a message as the Holy Spirit begins His work. Hearts will be softened, chains will be broken, women will be set free and renewed in the Lord, decisions will be made and miracles will take place.
Our heart is that every woman is able to attend the Passion Women's Conference! Because of that, we intentionally have priced the tickets affordable, so that no one would miss out on all that Jesus has for her.
To pamper you more, the cost of the ticket not only includes both Friday night & Saturday's admission, but it also includes dessert Friday night, a light breakfast on Saturday, Saturday's lunch along with unlimited coffee and tea throughout the entire conference!
We will have dynamic speakers such as Karen Wheaton founder of "The Ramp" ministry will be joining us, along with Author & Women's Conference Speaker Kasey Van Norman. Children's Ministry Director and Awake American 365 Speaker, Deborhan Queen will also be sharing a powerful word for us on this incredible weekend.
– "The Passion Worship Team" will be leading us in Worship along with some special performances from "Audience of One".
– Vendors such as Inspirational Bling, Lu La Roe, Essential Oils, Scentsy, Tupperware and more will be there for some fun Girly shopping!!
– Cost for both days in only $30 in advance or $40 at the door. Teen Tickets are $20 or $30 at the door.
– Childcare is available but must be pre arranged 1 week prior to the event. Please call 727-859-7883 to RSVP childcare.
For more information, please contact Lisa Avery at 727-992-0695
Get your tickets today and don't miss out! For additional information or to purchase tickets go to: https://www.eventbrite.com/e/2017-passion-womens-conference-reign-tickets-34396489827
Follow us on FACEBOOK!